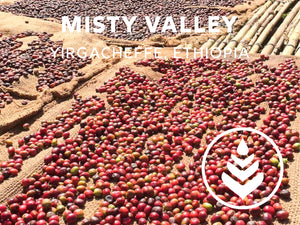 ORIGIN : Yirgacheffe, Ethiopia
ALTITUDE : 1750 - 1950 m
VARIETAL : Ethiopian Heirloom
PROCESSING : Natural, Raised Beds
ROAST : Light-Medium
TASTING NOTES : Blueberry-Blackberry Smoothie, Lemon, Floral, Milk Chocolate
Yirgacheffe is a region in southern Ethiopia that is known for its successful coffee production due to the nutrient-dense soil and high elevations. It lies in the Gedeo zone and is located in the village of Kebele of Chelchele. The washing station manages over 360 drying beds for drying natural and washed coffees that are handpicked by local farmers who sort only ripe cherry for best quality. Recently, producers in the Gedio region have been reinventing the natural process originally developed in Ethiopia to offer a completely different profile from this well-known origin.
The Misty Valley is a prime example of the fruitiness, complexity, and character of these Natural Yirgacheffe Coffees. Developed by exporter and producer partner Abdullah Bagersh, the Natural Misty Valley is subject to an incredible amount of care from start to finish. When the ripe cherries are first brought to the mill to dry on raised African beds, they are constantly turned (day and night) for the first 48 hours of drying to ensure and even evaporation of moisture from the cherry. This lends a consistency and cleanliness to the cup, which can prove difficult in a process prone to mold and uneven air circulation. After the coffee is fully dried, and the skin, mucilage, and parchment removed, it is sorted and traded through the Ethiopian Coffee Exchange as a Grade 1 Yirgacheffe.
We roast on Tuesdays and Wednesdays and to ensure the best tasting coffees, orders received after Monday may not be processed or shipped until the following week.