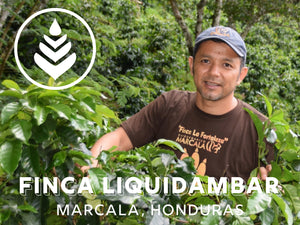 ORIGIN : Marcala, Honduras
FARMER : Lennon Diaz
ALTITUDE : 1265 m
VARIETAL : Pacas, Lempira, Catuai, Bourbon
PROCESSING : Fully Washed, Raised Beds
ROAST : Medium
TASTING NOTES : Chocolate, Lime, Tangerine, Brown Sugar
Until just over five years ago, Lennon Diaz, was estranged from the world of coffee, his job was always an agent in a bank. His father was the one who was involved in the production of coffee. One day he made the decision to start a project where he could have independence and feel like he was doing something different. In his first batches on his fathers' farm he managed to obtain a coffee with a profile of 87 points, at that time he discovered that he had an excellent coffee and understood that you have to start doing a process to improve quality and take on the challenge of maintaining it. Lennon knew that in order to maintain the quality of his coffee, he had to focus on the process of experimentation and observation. Lennon's coffee is a perfect coffee for the cool climate, it is very silky and sweet with hints of caramel and lemon.
We roast on Tuesdays and Wednesdays and to ensure the best tasting coffees, orders received after Monday may not be processed or shipped until the following week.