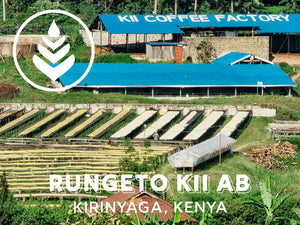 ORIGIN : Kirinyaga, Kenya
ALTITUDE : 1600 - 1800 m
VARIETAL : SL28, SL34, Batian
PROCESSING : Washed, Raised Beds
ROAST : Light
TASTING NOTES : Cola, Pineapple, Sungold Tomato, Key Lime
The Rungeto Farmers Cooperative Society was formed in 1997, following a reorganization of the Ngiriama Cooperative. Today it has approximately 850 members who farm rich, loamy clay soil between 1,600 and 1,800 meters above sea level.
The Kii Factory (or, mill) was constructed and opened for processing in 1995, in a scenic spot at the foot of Mt. Kenya. The mountain's snow-covered peaks make for a dramatic backdrop to parchment drying on raised beds. Another key aspect of the landscape is the Kii River, from which the factory takes its name. The cold, fresh, fast-running water comes straight from Mt. Kenya's snowy peaks and is the source for the water used to wash the coffees.
The quality the Kii Factory is known for is also a result of its insistence on sorting, to ensure that only perfectly ripe cherries are processed. Cherries are sorted before they're pulped. The parchment is fermented overnight and then washed and graded. The sorted parchment is then dried on raised beds for between 8 and 14 days.
The chairman of the Ngiriama society has taken several measures to improve cup quality and the sustainability of the mill and co-op. These include installing tiles on the washing channels, which would otherwise be concrete; and ensuring that the river water used by the mill is cleaned and re-used.
We roast on Tuesdays and Wednesdays and to ensure the best tasting coffees, orders received after Monday may not be processed or shipped until the following week.