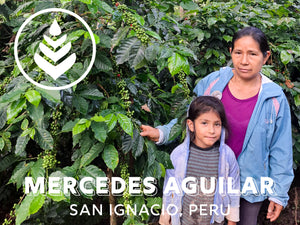 ORIGIN : Cajamarca, San Ignacio, Peru
FARMER : Mercedes Aguilar Calle
ALTITUDE : 1650 m
VARIETAL : Caturra
PROCESSING : Washed, Raised Beds
ROAST : Light-Medium
TASTING NOTES : Strawberries & Cream, Papaya, Lemon, Maple
La Nona is the name of the farm Mercedes Aguilar Calle inherited from her parents 30 years ago. The farm was called 'La Nona' because in that area there are several La Nona plants, a very delicious fruit indigenous to the local area and which are vital for shade and biodiversity on the property. Mercedes operates this farm independently, with no help from family or a general manager. She hires four pickers during the harvest, and completes the washing, fermentation, and drying of the crop at a farm level. She works to innovate with new varieties of coffee, and experimenting with times of fermentation for the quality of coffee beans and cherries. 

Her nearly 10 acre farm has been certified Organic. She grows bananas and other vegetables as well, as a means to improve the richness of the soil. What makes La Nona special is Mercedes attention to detail in regards to the good care of the plants and the cultural/agronomic activities that are carried out on the farm. She currently works with Cooperativa Agraria Frontera San Ignacio Ltda to improve the quality of her crop as well. 
We roast on Tuesdays and Wednesdays and to ensure the best tasting coffees, orders received after Monday may not be processed or shipped until the following week.