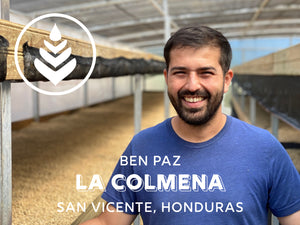 ORIGIN : San Vicente, Honduras
FARMER : Ben Paz
PROCESSING : Fully Washed, Raised Beds
ROAST : Light-Medium
TASTING NOTES : Milk Chocolate, Lemon-Lime, Peach, Honeycomb, light Floral
This crowd-pleasing, microlot offering is courtesy of San Vicente, a family-owned export operation in the Santa Barbara department of Honduras. In recent years, their young rockstar operator, Ben Paz, has been responsible for the production of several notable varietals within the specialty coffee scene. 
The Cup of Excellence is a country-by-country competition that has identified quality through cupping for two decades, leading the top-scoring lots to an international auction, where they often command many times the market price for a pound of raw green coffee. Santa Barbara claims more Cup of Excellence prize-taking producers than anywhere else in Honduras. Despite not possessing remarkable altitudes for a coffee-growing region or the most sought-after exotic varieties there's simply something special about the area - and Ben Paz is one of those things. 
We roast on Tuesdays and Wednesdays and to ensure the best tasting coffees, orders received after Monday may not be processed or shipped until the following week.