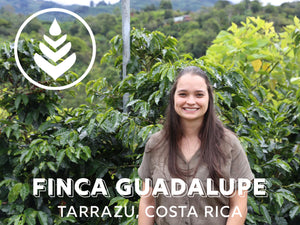 ORIGIN : Tarrazu, Costa Rica
FARMER : Daniela Gutiérrez
ALTITUDE : 1500 - 1900 m
VARIETAL : Catuai, Caturra
PROCESSING : Natural, Raised Beds
ROAST : Light-Medium
TASTING NOTES : Black Cherry, Chocolate, Lemon, Red Apple
In 2009, Don Jorge and Ivannia Gutierrez decided to invest in and install their own micromill, La Montaña Tarrazu. They felt a micromill of their own would add value to their already amazing coffee as well as the ability to control all factors of processing to increase their quality. Currently Daniela, Don Jorge & Ivannia's daughter, is in charge of the processing and managing the sale of their coffees. Washed, Honey, and Natural are the three processes they specialize in, but are also currently working with other varietals to experiment with different profiles!
We roast on Tuesdays and Wednesdays and to ensure the best tasting coffees, orders received after Monday may not be processed or shipped until the following week.